Last week, I had the pleasure of speaking at the Van Abbemuseum, a contemporary art museum in Eindhoven, Netherlands. My talk was part of a larger day-long symposium on "Special Guests," and the audience was comprised of museum professionals from across the Netherlands and northern Belgium.
It is fitting that the Van Abbemuseum should be the host for this kind of event, as they have made a consistent effort to welcome a range of visitors, who may or may not experience the museum in the usual ways. I first heard about this museum because of their "Unforgettable Van Abbe" program aimed at people with Alzheimer's disease. In addition, the facility is equipped with a robot that provides access to the museum for visitors who are homebound.
The museum welcomes others as well. Near the entrance desk, there is a "Toolshop" where visitors can select various means "that offer a new perspective on the exhibition." Tools include "hearable architecture," "inhaling art," and "the collection through kids' eyes." Another tool is the Van Abbe's "Qwearing the Collection" program, where guests are invited to wear clothing that provides a queer interpretation of the art under view, as well as a queer glossary of terms that visitors may not already be familiar with.
I fully embraced "Qwearing the Collection," because it provides a two-fold glimpse into queer experience. The program most obviously does this by interpreting part of the collection with a queer eye, pointing out the subtle critiques of normative gender roles and sexual expression that might normally escape the average visitor's notice.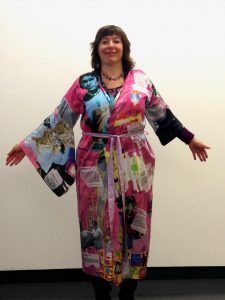 The program also queers the visitor experience by allowing folks to encode themselves in queer and flamboyant ways. Although I don't normally "read" as LGBTQ to strangers, at the Van Abbemuseum I was able to swish around the collection in a "Qwearing the Collection" kimono and bright yellow scarf. Those who did not know about the program just thought I was odd; those who did know about the program understood that, by wearing these accessories, I was signaling my interest in a queer point of view. This led to numerous conversations with strangers and a special-club nod across a gallery from another visitor wearing this program's accoutrements. In this way, the "Qwearing the Collection" props mimicked the experience of being part of a semi-secret subculture, where members adjust their appearance in ways that may not be understood by mainstream society, but serves as a signal for others who identity with the same subculture that you are friend, not foe. Brilliant!
My time at the Van Abbe, along with the other innovative museums I visited while in the Netherlands, were a breath of fresh air for me, providing so many new ideas on museum practice. I look forward to pondering my experience further and applying what I learned in the Netherlands to my projects here in the states and elsewhere.